Etania envisions a quality education for marginalised children empowering them with the skills for a better life
Etania, meaning the greatness of God, is a group of schools set up for marginalised and stateless children in the state of Sabah, Malaysia. Etania takes any child who has no access to the national education system and provides a complete learning programme designed for the needs of these children. As many of the Indonesian migrants have entered Sabah as undocumented workers, their children - many of whom are born in Malaysia - are not registered in either nation, so becoming stateless. These are Sabah's 'invisible' children, unacknowledged by all. It seems like these children live in spaces of 'non-existence', being unacknowledged as people. There are so many hindrances to the registration process that in most cases it is not possible to register the birth of a stateless child, thus making that infant a 'non-person' in governance terms. This means thousands of children were born in Sabah but are not claimed or recognised by any country or nation.

Dr. Kathryn Rivai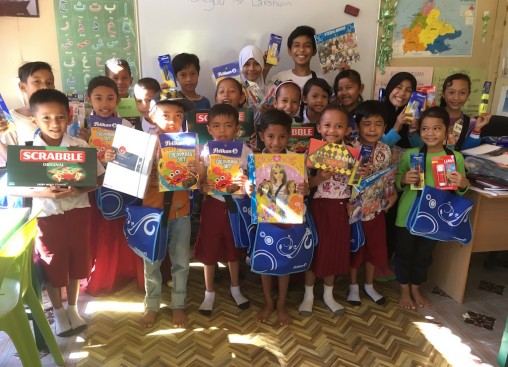 We strive for our students' future
Etania is fortunate to have many volunteers and visiting consultants who are or who have assisted the Etania schools in the development of its educational programs. Some of these are from; New Zealand, Australia, England, Switzerland, Germany, Canada, USA, Japan, Indonesia, India, Taiwan, Singapore, West Malaysia and Sabah.

EMPOWER
Etania aims to empower the children with the skills they will need for their future lives be it academic, skills based, business based or whatever they choose. This is why our school programme is designed with our children and their future in mind. We select areas of learning or skills training after many discussions with the children and their families. We set realistic goals for what they have the opportunity to do in their future.

ENGAGE
Students are actively engaged in learning. They participate in a skills programme that, upon completion of 100 hours of the specific skill training they receive a certificate. Teachers ensure all children are participatory in their lesson design. It is important that the voice of the child is heard and through active engagement staff are able to understand where the child comes from and where he or she wishes to go in life.

GRADUATION
All children of Indonesian origin are able to take the Indonesian national examinations. Children of Filipino origin are able to take the school examinations. All children receive their respective certificates of graduation upon completing their various levels of attainment.